About The Headshot Spot™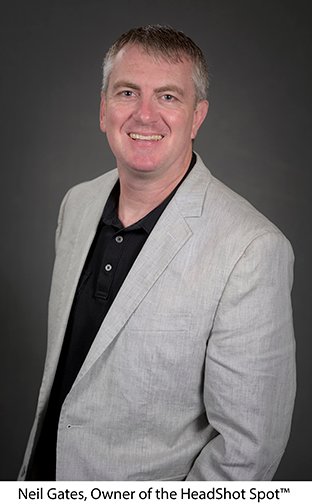 HeadShot Spot™ Offers
Executive Portraits at Your Chicagoland Office!
Meeting/Convention Planners Click Here
Attorneys ~ Accountants ~ Hospitals ~
Sales Forces ~ Medical Offices ~
Real Estate Teams ~ Marketing ~
Staffing ~ Architects ~ Your Company!
The HeadShot Spot™ takes the stress out of your corporate portraits!
Why Does YOUR Company NEED Professional Headshots?
Email Signatures
Intranet
Website "About Us" or "Meet Our Staff" Pages
Business Proposals
Profile Picture for Contact Info
If your employees don't have a good portrait, you're not leaving a good first impression with potential clients or business partners. These people need to know that you are three things: friendly, trustworthy, and professional. What better way to demonstrate that than through an amazing profile photo?

It doesn't matter what is written in a profile, no one is going to take you seriously if the photo has been taken by an amateur...
What can I do with my professional portrait?

Email Signatures - Think of the last time you had written correspondence with someone you didn't know. Remember wondering what that person might look like on the other end of the phone? It's something we just do without thinking about it! By adding a friendly, professional photograph in your email signature, it helps whoever is on the receiving end to relate to you quicker, and builds rapport instantly.
Intranet

- Staff of medium to large size companies are always sending messages to each other throughout the day. Adding associate portraits to those messages helps in those awkward moments of asking your co-worker, "Who is this person?" by associating the name with a face instantly.
Website "About Us" or "Meet Our Staff" Pages - Probably one of the most beneficial uses of executive portraits. Strangers LOVE to know who they are either talking with, or who they have set up a meeting to see. Viewing a well photographed portrait takes away any preconceived ideas of what the person looks like. Imagine having emailed someone named Val, expecting to meet a young woman who you thought was called Valerie...only to find that it was an older gentleman who had shortened his given name, Valentine. It happens ALL the time! Whether we mean to or not, we paint our own picture as to what a stranger looks like, based on a phone or email conversation.

Another

great

reason to use professional portraits on your website is consistency. When your site looks neat and polished, your prospects

will

notice

the attention to detail. When staff photos are submitted by the individual, your site starts to look messy and amateurish. Don't let this be

your

site! Here are a few local companies that use the HeadShot Spot™
Business Proposals - Another great way to beat out the competition is with a friendly portrait of the sender of a proposal. Again, it's about rapport. Enough said!

Profile Picture for Contact Info - All of our smart phones have the ability to add a photo to our contact card. As you meet new prospects and share your contact information, have a professional portrait of yourself instead of the recent selfie you took. You'll truly stand out from the crowd!
We Make Your Head Shots Fun!
Get pampered!

Let us relieve some of your stress by bringing makeup artists. Not only does it help relax the person to be photographed, but it makes for a much better looking portrait. Our makeup artists are totally dialed into how much makeup is needed for a portrait, and they always go the extra mile.
Hey, DJ! Turn it up!

Yes, we bring our own tunes!! Using our Bose speaker, we can provide your company with just the right atmosphere. Since every business is different, we cater the music medley to you!
Let them eat their cake!

After each session, the person being photographed will be able to view and choose the image(s) they would like, and toss the ones that hate! If they bring a flash drive to their session, we'll save it right on there for them.
Use The HeadShot Spot™ To Increase Your Customer Base
Yes, your company can use the HeadShot Spot to draw clients, or schmooze the ones you have! Say you're a mortgage company...set up a day of head shots at your office and invite your real estate database. Pour some mimosas and coffee, have some finger food and snacks, and they'll be putty in your hands! They won't believe you gave them this service for free, and you'll have an edge over the other guys...... Ummm....You're welcome!



Ready to set up a HeadShot Spot™? Call us at 630-528-0497 or email us now!
For some samples, click here, or Read what our clients have to say...
Use The HeadShot Spot™ at Your Next Meeting, Convention or Expo, and INCREASE YOUR REVENUE!

The HeadShot Spot™ is owned and operated by Neil Gates Photography, which was established in 1998. Neil loves all kinds of photography, but says that the HeadShot Spot™ is just a ton of fun! "We strive to capture the perfect portrait. If someone doesn't like what we've got, we'll just keep going until we have a winner! We know that taking photographs is like going to the dentist for some...and we want you to be thrilled with your portrait, not just happy. We also want the experience to be a fun one, and the makeup and music really help with that..." - Neil Gates

Call or email now... We'll have a great time!






Meetings and Shows


Your search for event business headshot photographers stops here...
Imagine a booth that is full of life, great music, makeup artists and headshot photographers...
Welcome to the HeadShot Spot™, a HUGE crowd pleaser at conventions and meetings! Attendees and sponsors LOVE us!
Winter Special!
Book Your HeadShot Spot in February, and get 2016's Prices!
Offer Ends on Feb 28, 2017 at 11:59 pm CST
Click Here to Find Out How to MAKE MONEY by Offering HeadShots at Your Show!
Everyone Needs A Great Social Media Portrait!
Professional business headshot photographers from The Headshot Spot™ are available to surprise and delight your guests with a gift they'll value, talk about and appreciate: a flattering headshot. The Headshot Spot™ is an ideal place for folks to mingle and network, creating goodwill among attendees and maximum exposure for sponsors, including:
Click Here To Find Out How To MAKE MONEY By Offering HeadShots At Your Meeting!
A value-added service, The Headshot Spot™ includes professional makeup artists and business headshot photographers who give event attendees star treatment to ensure they're captured at their best on camera.
On the spot, guests will receive digital files of their business headshots, which they may use at work, in their social media profiles and anywhere they require a professional photo of themselves. Once they receive their headshot, your sponsors will realize their return on investment when the "thank-yous" pour in!
Contact us to request a business headshot photography quote for your next event, and see a photo gallery of our work.
The HeadShot Spot Starts at $2495
Call or email now... We promise you a fantastic time!
The HeadShot Spot™ is located in Chicagoland, but travels internationally

Make Money With HeadShots at Your Show!


How To CREATE REVENUE With HeadShots!

Meeting Planners...This is for YOU!

Offering FREE headshots to all those attending your show is a HUGE gift!

Attendees will fall over backward thanking you! They just won't believe that they received this service at absolutely no cost to them!

Everyone Needs a Great Social Media Portrait!

Generally speaking, getting a headshot takes effort; in fact, it's just completely taxing... First, you have to find a photographer in your area that specializes in that type. That's a lot harder than you might think! Then, you have to carve out the time to do it. On top of that, is the cost. Your average headshot, (that's without a makeup artist, I might add) is upwards up $150, and sometimes more.

As a meeting planner, you are always trying to come up with new ideas, and this is one that has been proven over and over again. PLUS, you can MAKE MONEY!

People like getting free things, and when you give them something that they actually can use, they LOVE it!

It's All About The Experience, Right?

Hopefully, you have read by now that we bring in the best in portrait photographers, as well as the most professional and friendly makeup artists from all over the country!

The HeadShot Spot™ can be as basic or elaborate as you would like. Some like to bring in couches, chairs with charging ports, and even a bar at happy hour time! The most successful Spots are the ones that people can just hang out at.

Attendees will be pampered. Let me stop there. Pampered... when do they ever get pampered? And, don't think this is just for the ladies; men love it too! They may not tell all their friends, but they enjoy it, trust me!

While people are in line, getting their makeup or having their portrait made, The HeadShot Spot™ is also playing "DJ"! Yes, we make sure that the Spot is lively and full of energy with our huge selection and variety of music. This is one of the things that attendees comment on ALL the time! We've even seen people sing and dance!

Let's Get to the "Make Money" Part!

So, You love the idea of having a HeadShot Spot™, but you don't have it in your budget...

The good news about the HeadShot Spot™ is that not only do your attendees love it, but sponsors can't get enough of it!

Sponsors love The HeadShot Spot™!

Many times, sponsors don't really get a whole lot out of their investment. This is a chance for them to really have an engaging experience with their target market.

Instead of Oral B just having a booth at the American Association of Dental Hygienists, why not sponsor the HeadShot Spot? They can still set up a display, give out samples, talk to practitioners and scan badges for leads.

The difference? The HUGE number of people that will WANT to come to their booth! No more dragging people off the floor, or enticing them with silly games or candy (well, toothpaste and floss at the dental shows!)

Here Are Some Key Benefits of Being a Sponsor
Prominent signage to The Headshot Spot™ and sponsor's logo on all printed images

Sponsor-provided logo attire on all The Headshot Spot™ personnel

Options for sponsors to greet attendees or help them pose and select photos

Networking opportunities with a captive, appreciative audience

"On the spot" 4x6 prints with sponsor information (creates a huge buzz around the show, resulting in more visits to the HeadShot Spot™!)
Now, let's get you a sponsor and book that HeadShot Spot™!

By this point, you may be wondering how much the HeadShot Spot™ costs, and how much money can you make? The HeadShot Spot™ starts at $1700, and how much you mark it up is up to you! Obviously, the more you can offer the sponsor, the more you can charge! Just give us a call and we can discuss your event, and come up with a plan that works for you.

2017 Special...Book in January, and Receive 2016's Prices!

The HeadShot Spot™ is located in Chicagoland, but travels internationally.


What makes a Good Headshot?


So what makes a good head shot?

When looking into professional head shots, it's important to take these things into consideration:


The background of your head shot photo matters. Colored and patterned backgrounds can be distracting. We go for a clean and simple grey or a traditional "Rembrandt" style with brown tones. Black is okay too but sometimes most find it to be too harsh. We just don't want to distract from what really matters here, the subject!


The lighting is probably the most important while also the trickiest aspect to a head shot. Lighting can change a person's look and feel with the slightest move of an angle. There are many different studio lighting techniques to create amazing definition. We use a three light set up... a main light, a fill light (adds to the shadow side), and a hair light (adds a lovely, but subtle back light to the hair and shoulders, which gives a great separation to the background)


Yes, every photographer sees something a little different, but the really good ones have learned their craft so well that they can concentrate on bringing out the best expressions from people. I learned years ago from a great mentor, "Set it and forget it". Simply put, learn how to set your camera so that you can do it in your sleep. Many photographers spend too much time messing around with their camera settings and looking at the screen as the image pops up. A truly good photographer will not need to keep looking at the camera after each captured image, they can work on talking to the subject and bringing out the best smile that person has. THIS is one of the most valuable lessons I ever learned!


HeadShot Spot™ FAQ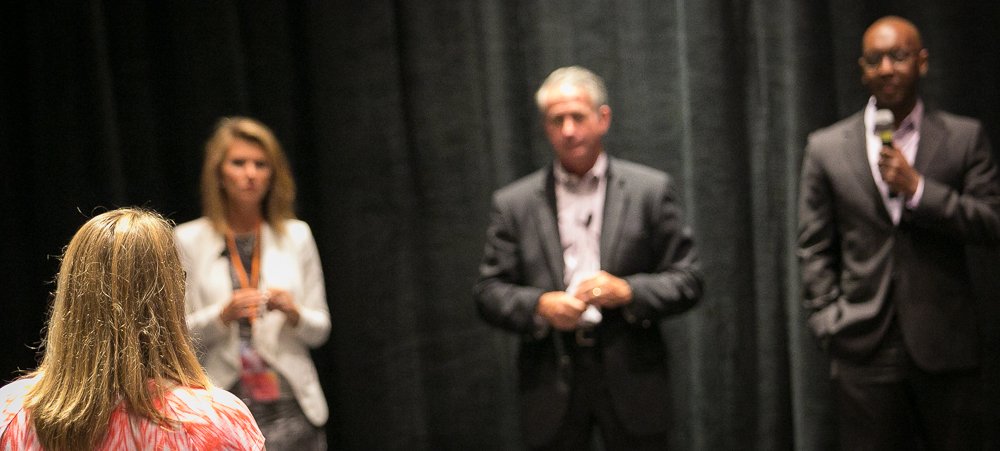 HeadShot Spot™ FAQ

Please feel free to call or email with your questions!

Q. Where are you located?

A. We are based out of the Naperville/Plainfield area, about 30 miles west of Chicago

Q. Do you provide headshots at meetings or conventions?

A. Absolutely! Please see our page for meetings

Q. Do you travel anywhere?

A. Absolutely! We've done head shots in numerous cities around the country, mostly for meetings or conventions.

Q. Do you work with small companies of five employees or less?

A. Yes. No job is too small! Just refer to the pricing.

Q. Do you provide makeup artists?

A. Yes, upon request. We recommend using makeup since those artists know how to deal with camera lighting, and what will look best. The ratio of artists to photographers should be 2:1, since the makeup process takes longer. Makeup artists general run around $200 for a half day, and $350 for a full day.

Q. How long does the process take?

A. We ask that you schedule 4 people in a 30 minute block. If one isn't quite ready, we can take the next one. Please print out your schedule with the full names, and email an Word or Excel file.

Q. We have a lot of employees, do you do them all in one day?

A. Depending on your available space, we can have two or more photographers. One photographer can handle up to 56 sessions during the day. If you have staff on rotation (like hospitals), we can set up on multiple days.

Q. How soon do we see the photographs?

A. Each person being photographed will have the ability to view their images right on the spot. They can delete and save as many as they like.

Q. Do you do retouching, or "Photoshop"?

A. Yes, in most cases a little artwork will be done to most images. We try to take care of any blemishes, crows feet, wrinkles and eye bags.

Q. Can the subject being photographed get a copy of the photos?

A. For sure! They might like to use it for LinkedIn or Facebook. Just have them bring a USB flash drive to their session.

Q. How do we get the images?

A. Typically, once the job is done, we will upload the photographs to an external hard drive or USB flash drive that you provide.

Q. I have other questions, how do I reach you?

A. Either here, or you can call or text Neil at 630-528-0497. Email is neilgphoto@gmail.com


Prices


~ Pricing ~

Meeting Planners:

The HeadShot Spot™ starts at $1700, and includes one photographer and two makeup artists. Typical pricing is directly below, but please call to discuss your particular needs.

A common question is, "How many photographers do I need for my meeting or show?"

We have found that one photographer is ok for up to 1000 attendees. Two photographers for 1000 - 5000 attendees, and three photographers for 5000 plus. Typically, shows and meetings are not held on just one day, so your attendees have more time to visit the HeadShot Spot™. Of course, this is just a guideline; it also depends on the demographics of your attendees. For example, women are more likely to want a headshot by around double over men.

Hours of operation vary from event to event, but many times we are open when the expo floor is open.

If you are looking for The HeadShot Spot™ to come to your Chicagoland office, please scroll down.

Services in Chicagoland are as Follows:

One Day Events
One Photographer and Two Make-up Artists - $1700

Two Photographers and Four Make-up Artists - $3400

Three Photographers and Six Make-up Artists - $5100
Two Day Events
One Photographer and Two Make-up Artists - $3400

Two Photographers and Four Make-up Artists - $6800

Three Photographers and Six Make-up Artists - $10,200
Three Day Events
One Photographer and Two Make-up Artists - $5100

Two Photographers and Four Make-up Artists - $10,200

Three Photographers and Six Make-up Artists - $15,300
Services That Require Travel Outside of Chicago are as Follows:
One Day Events*
One Photographer and Two Make-up Artists - $2800

Two Photographers and Four Make-up Artists - $4500

Three Photographers and Six Make-up Artists - $6200
Two Day Events*
One Photographer and Two Make-up Artists - $4500

Two Photographers and Four Make-up Artists - $7900

Three Photographers and Six Make-up Artists - $11,300
Three Day Events*
One Photographer and Two Make-up Artists - $6200

Two Photographers and Four Make-up Artists - $13,300

Three Photographers and Six Make-up Artists - $22,700
* Plus Travel Expenses

Don't Forget...Attendees AND Sponsors Absolutely Love The HeadShot Spot™, Which Means That You Can MAKE MONEY by Having Us at Your Event!

Services Rendered at your Chicagoland Office are as Follows:

No job is too small for The HeadShot Spot™! We can visit offices with as few as four people. Pricing is as follows:

4-5 staff members - $130 ea.

6-7 staff members - $120 ea.

8-9 staff members - $75 ea.

10-20 staff members - $50 ea.

21-30 staff members - $40 ea.

31-45 staff members - $35 ea.

The ratio of artists to photographers should be 2:1, since the makeup process takes longer. Makeup artists general run around $200 for a half day, and $350 for a full day.

All images are viewed at the time of photography, giving the subject the opportunity to choose his or her final portrait. Basic retouching is always free!

Check our FAQ page for more information.

More than 45 staff members? Call or email for a quote

Makeup Artists Available Upon Request. Come on, you know the ladies will love it, and it makes for a much better portrait!

Prices shown are for up to 20 miles from Downtown Plainfield. Travel fees will apply for further distances.


Promo Video